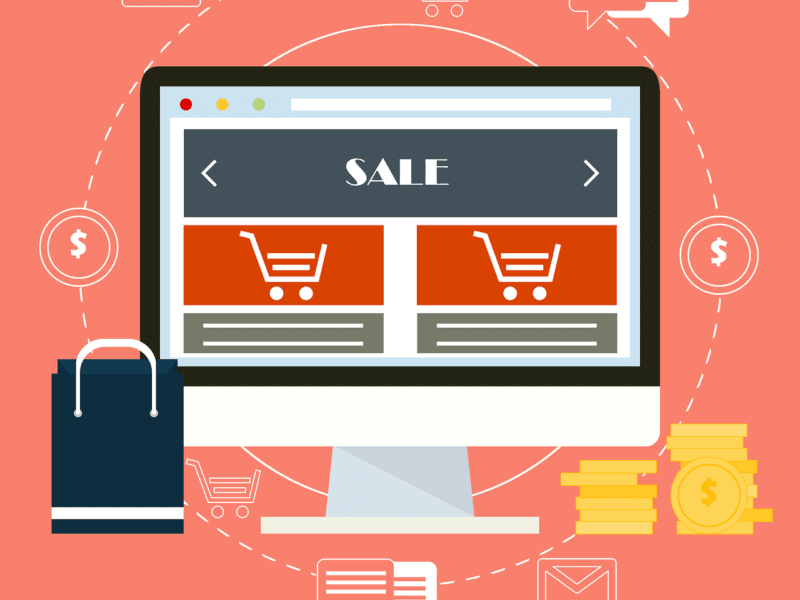 Ecommerce
A Guide To Marketplace Product Image Guidelines
Introduction
Visualization is the key to an ecommerce business' success. On any given day ecommerce product images are responsible for creating the first impression on customers. High-end visual content that is listed on any ecommerce platform is the best way to convince your customers to hit the 'buy' button. With the current circumstances in the world the paradigm shift from brick and mortar to online is proof that e-commerce is growing at an unprecedented speed. From basic products to branded merchandise consumers are opting for ecommerce and online shopping as they have proven to be safer options in these trying times.
With every passing second (for e-commerce stores) online shopping becomes more product photo driven. It is crucial for online retailers to keep in mind that while selling their products on various marketplaces there are certain rules and regulations that their visual contempt must abide by. Each marketplace has different requirements and  in order to avoid any confusion, I will break down for you the best ways to showcase your products on different marketplaces.
Image Quality is Vital
The high quality and high-end images on the marketplace are directly proportional to better shopping experiences and hence, higher conversion rates. Below I have put together a handy chart to help you understand product photo requirements across the various online marketplaces.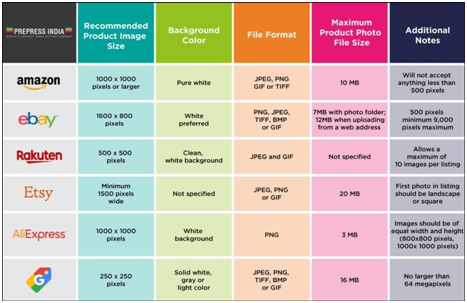 Marketplace Product Image guidelines for amazon,ebay, rakuten, etsy, aliexpress and google shopping.
There's no debate regarding the thought that shoppers are attracted to the ecommerce product images first and any additional information is secondary. So it becomes crucial to use high quality images in accordance with marketplace guidelines.
Image Composition
The framing composition of the product should be in a way that it covers 85% or more of the online image. Your product photos should accurately reflect the product you are selling with minimal to 0 propping. Adding extras (any accessory or props) in your frame may mislead the customer into thinking that these are part of the products or included with the purchase.
The current trend on the marketplace calls for large and clean product images. Which simply means your product images should be of 1200 pixels or more on the longest side to ensure that zoom and enlarge features are activated on most marketplaces and as a seller you don't want your customers to see distorted images and lose the confidence to make a purchase. For the best results regardless of product category, go for large, high-quality images of 1600 pixels a side or more.
Provide multiple product images
Besides high quality images your customers must be convinced of what they are purchasing. Multiple photos of a product from various angles boosts customers' confidence and encourages them to hit the 'buy' button. One image is simply insufficient and most of the marketplace insist on putting multiple images before you can even offer your product to the world. 
Always Use White backgrounds And Be Consistent
Several marketplaces do not specify product image background, while some make it necessary to use only white backgrounds. As a consensus based on the industry standard, most of them highly recommend the use of white backgrounds.  Also with a white background image, the marketplace will blend well with the search and product information pages. While not a requirement for additional images on Amazon, eBay or google, it is nonetheless highly recommended by each of them.

Image Source:- www.puma.com
Use a white or transparent background and strive for consistency when uploading your images and benefit because:
They offer the best display on smartphones.
A majority of customers find this format appealing.
The format can be used on any channel.
Your product image represents your brand.
You increase flexibility when handling your images.
Always strive for consistency in your visual content as consistent product photos play a vital role in showcasing your brand. They communicate strong brand identity, professionalism, and confidence. This will boost customer's confidence and they will feel more comfortable buying your products from the online marketplaces.
Create Marketplace Complaint Images With EIE
Images are crucial for online shopping. High quality images can be a game changer for any brand as it helps improve the overall customer experience, and the more time & effort you put into improving the quality of your ecommerce product images, the higher your return on investment will be. 
There are several rules and regulations that online sellers must adhere to before listing product images online, but a professional Photoshop Retouching service provider is well versed with all of it and can effectively and efficiently create marketplace compliant images. Brownie points if you obtain high-quality and marketplace compliant, cost-efficient product images at speed and scale without having to worry about anything.
If you want to be efficient and accelerate work at scale, fast, cost-efficiently and obtain high-quality visual content, collaborating with us at Ecommerce Image Editing (EIE) for post-production services will give your business the edge to excel, eventually resulting in higher sales for online e-commerce retailers and cataloguers.
Start by availing our free trial today!