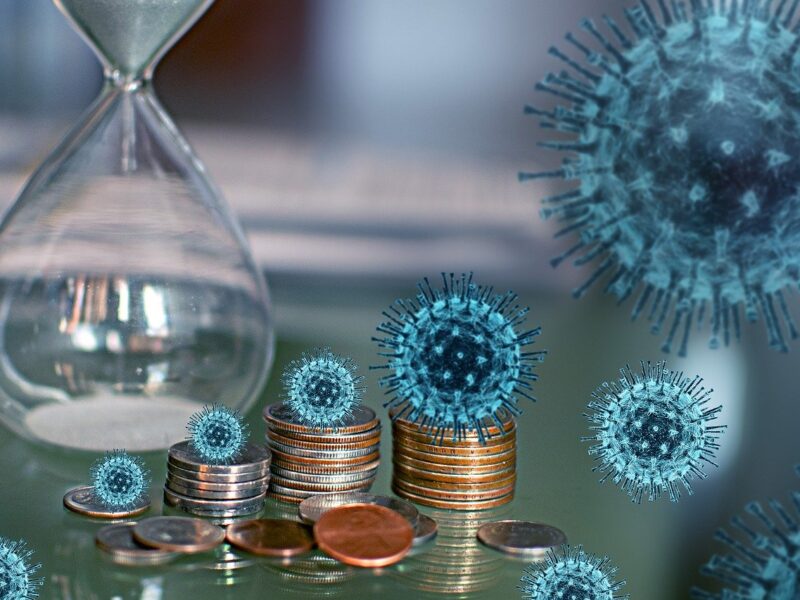 Current Trends
Emergency Glass, Break In Case Of Worldwide Pandemic And Lockdown
The only thing that mankind ever thought to witness together was an apocalypse or a World War III, a worldwide pandemic just appeared out of syllabus. A miniscule and invisible virus was enough to shake up and shatter the economy of the world. So while most companies grappled with their disaster management plans none of which had prepared them for such a unique (to say the least) situation. None of us had an alternate course of action on a glass case labeled "break in case of worldwide pandemic and lockdown."
But our founder of Ecommerce Image Editing designed the organization and laid the framework, leaving no stone unturned and no margins for error. What's more, because of the idea of our company, our special frameworks, and careful planning, we've managed not to have any operational effect from COVID-19 so far.
When the catastrophe hit, closing down the whole world, we saw a decline in work from our existing clients because the economy came to a standstill, halting all functionality. Our team of Photoshop editors and retouchers started working from home and since a year now they have been doing the same and are working efficiently.
When the pandemic hit it was a time of despair all we held on to was hope. While the world was in lockdown, our image editors continued to work on the projects we received before the pandemic. In early May 2020 we had started to witness half of our image volume loss being recovered, at a growing and steady pace and since then we have been unstoppable.
What gives us joy is even in the time of crisis we have been able to hire more people because we are overwhelmed with work as new clients have joined our family and our existing teams of expert digital editors are now equipped with greater image volume.
The question that arises then is how a photo retouching company (EIE) has remained majorly unaffected while the economy has been in turmoil and how has the work never stopped? Let me answer those questions for you in this blog and all the external factors around it.
Growth Of E-commerce Industry
The overall spread of the COVID-19 pandemic has disrupted how people purchase products and services and how they perceive e-commerce. Consumers are pretty hesitant to head outside and purchase even for daily essentials which has shifted the world towards a safer option i.e. e-commerce. From basic products to branded merchandise customers have now switched from shops, supermarkets, and shopping malls to online portals. According to stats by researchers non ecommerce sales plummeted to -3.2% while ecommerce doubled rising to over 32%.
As the following chart shows, the COVID-19 crisis accelerated the ongoing shift to online retail. Faced with stay-at-home orders and store closures, millions of Americans resorted to shopping online, resulting in a 3-point jump in the online portion of total retail sales. According to the U.S. Census Bureau, e-commerce sales amounted to $792 billion in 2020, which is equivalent to 14 percent of total retail sales. That's up from just 7.3 percent in 2015, illustrating the pace at which sales have moved online over the past few years and particularly in 2020.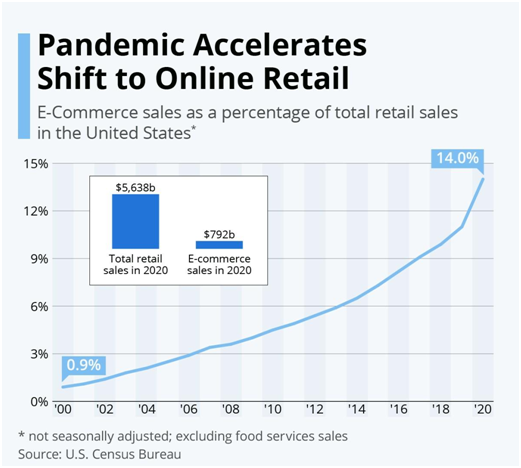 As per the stats it's pretty clear that e-commerce will continue to see high growth levels, meaning increased competition within the digital space. In turn, image editing services like EIE are expected to grow in demand as digital retailers seek to gain an edge in the market.
Let's take a look at the stats further in terms of total image volume, drop-off, recovery and type of imagery we've been retouching at EIE since the pandemic began.
Total Image Volume
As the pandemic began and the world went into lockdown we at EIE experienced a dramatic drop in the total image volume. Since our clients are based in the UK and Europe they were the most affected countries due to Covid 19. With photo studios and production houses shutting down in the foreign land its effect could be seen here as well; our image volume dropped by 30% on March 20th, and stayed -50% the following week.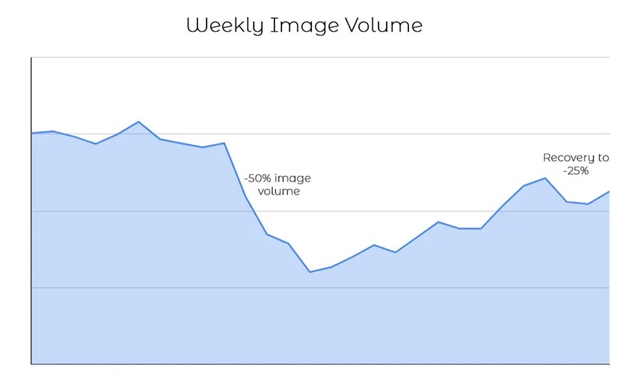 However, we climbed back up as swiftly as we fell. According to the statistics from our sales and marketing department, the drop we witnessed was because almost everyone was affected due to the pandemic to some extent- and over a year now fortunately everyone has also recovered.
Below is our year end review (2020), conveying our positive stats to you. We are so thrilled about the fact that the e-commerce industry is growing even more which means more opportunities. Due to cutthroat competition in ecommerce now, online retailers want their visual content to stand out from the rest which is making them turn their heads towards the world's largest Photoshop editing and retouching company i.e. Ecommerce Image Editing (EIE).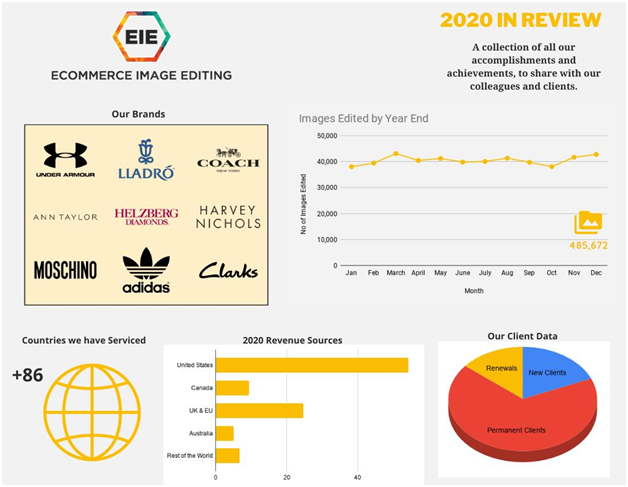 Active Customers and New Clients on board
Our 30% to 50% total drop in image volume came due to reduction in active clients and a reduction in volume of images from those clients. The good news was- the active drop was much less than the image volume drop, and bounced back relatively quickly. For weeks people were unable to adjust to the new norms of the pandemic and were unable to streamline their work process, but as soon as they figured it out they fixed it, and bounced back. The bouncing back was good news for us because the image volume increased with revival of active clients.
With a paradigm shift of retail from brick and mortar to e-commerce there has been a surge of online retailers listing their products on the web. As things started to settle down and people started to learn how to live with a virus, a permanent and viable option for consumers was to shop online (from basic essentials to branded goods).
This shift pressured the online retailers to showcase their products to their best, which created the need to head towards a Photoshop image editing service. My heart is filled with joy to share this information that over a year now and as many 27 brands have joined the EIE family. As they wanted to opt for a channel that could stay open and be with a photo retouching service (EIE) that had close to no operational deficiencies due to Covid-19.
They procured high-end and high-quality retouched images from our digital illustrators and Photoshop editors at (EIE) that helped their growth in the ecommerce industry. Even over a year now the photo retouchers are working from the safety of their homes and are efficiently executing the image editing process.
Seamless allocation of Human Resources from home
Our photo retouching editors have been working from the safety of their homes since last year. Our seamless process of communication and synchronization with team leaders, quality check officers, IT departments, image editors and CEO of the company is perfectly streamlined and together all we have is growth. Despite the pandemic our work operations have remained unhindered and even our efficiency rate has always remained 100%. Our previous clients and new clients are jubilant with the quality of visual content we have been delivering to them.
Model Vs Mannequin
EIE is the world's largest ecommerce retouching service. We offer a myriad of services and amongst which fashion apparel and accessories (footwear, sunglasses, jewellery) is the biggest segment.
EIE has developed a proprietary production system that blends specialist Photoshop editors and automated processes; we know exactly the type of retouching performed on each image. During the pandemic what we witnessed the most was decline in on-figure model photography for showcasing the products and apparel. As the virus was a threat to humans, the need for social distancing dramatically impacted the photography for on-figure models.
On-figure photography is inoperative for two main reasons: it's expensive and requires a lot of close personal contact due to the need for styling, hair and makeup. So the safest option was to switch to the usage of mannequins to display jewellery and various other fashion accessories. Put simply, we saw more products and stills displayed on mannequins or on plain backgrounds. Due to this, the Ghost Mannequin service combined with the clipping path was the most availed service by our clients.
Contingency Plans
EIE's work process remained unhindered even during the most catastrophic times and we were able to work efficiently thanks to advanced systems, software and other equipment. This pandemic taught us to always have a Plan-B and be prepared to tackle any situation. Keeping that in mind, we came up with a couple pointers to ensure the smooth functioning of our organisation and streamlined our process:
Although our Photoshop editors have the best Internet services at their disposal, if there is any malfunction, the employees can come to a sanitized office and work till the problem is resolved.
At EIE we have created the safest environment for employees to work with proper sanitization, body temperature checks, sanitization machines at the doorway and social distanced workstations. We have a massive physical structure available for employees to come back to and work should they face any issues (technical or emotional) back home.
EIE is equipped with the most advanced technology which makes our IT department the strongest pillar of our company. The information and product images that our clients provide online through FTP servers are stored in multiple locations to ensure data security and avoid any data loss. The data is safely kept both online and offline. In case of a crash we are prepared to recover data without any loss.
Streamline your Work Process With EIE
E-commerce growth and demand for image editing services have risen as a direct result of COVID-19. To keep up with day-to-day orders while staying competitive, online retailers across the board are opting for professional background removal, photo retouching, product color matching, colorways and many more services from online Photoshop retouching service providers such as EIE.
If you would like to make the most out of the ongoing shift to eCommerce and avail high-end photo retouching, consider signing up for our free trial today! We can aid you in improving your flexibility and competitive edge as you continue to navigate the ever-growing e-commerce industry.