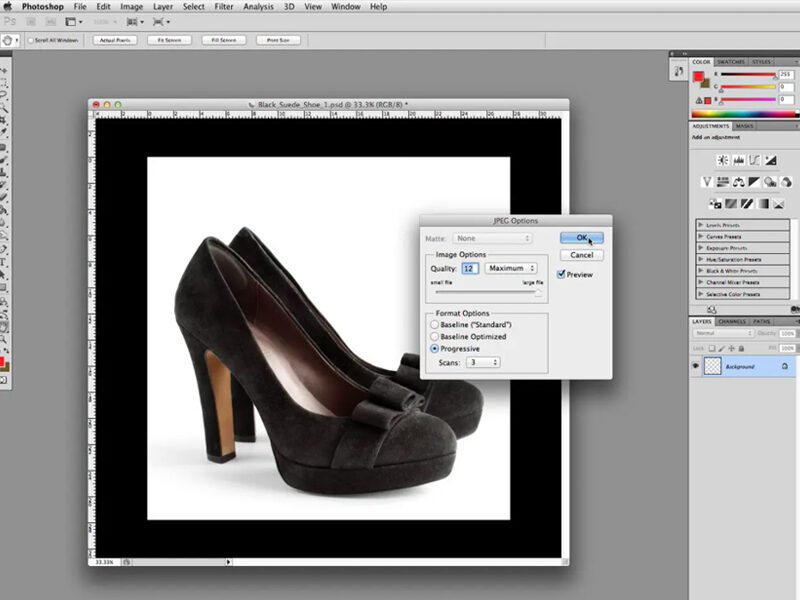 Ecommerce
Why Image editing is crucial for E-commerce Business
Visualization is the key to e-commerce business success. It has undoubtedly revolutionized the modern-day shopping experience. In the absence of physical appearance between a customer and a product, it is an image that bridges the gap. The success of online stores relies on the careful amalgamation of well-taken photographs and high-end retouching. The fact is there is no alternative to the image in the e-commerce business. Retailers are creating unique ways for customers to interact virtually with their products.
Though procuring standardized virtual content is not a child's play, it is required to surpass through various levels of image editing process executed by the retouching professionals. To attract potential customers and convert them, it is of utmost importance that the images are of top-notch quality. The service and information offered by the website are secondary in the process. In order to achieve this, it is vital to rely on professional image editing services. Online retailers have a notion that post-production services cost an arm and a leg, which is absolutely erroneous. In fact, image editing services uplift the quality of your e-commerce visual content which will ultimately boost sales, build customer trust with increased conversions. If you still have the slightest of doubt in your mind, below I will list a few reasons for you to shed light on why image editing is crucial for e-commerce business.
Image Editing= High-quality images= Greater consumer Trust= Greater sales
One of the key benefits of image editing is to help increase the buyer's attention, trust, and conversion rates. It helps e-commerce retailers earn credibility in a tough-as-old boots market. High-quality images increase the chances of attracting the credence of potential customers. Another reason- it is necessary to edit the photos is- budding consumers would like to see what they are buying, which shall match what they get. Although the product description and the price is important, consumers are assured they are buying the right product by judging the quality of the product's image put up on the site. Customers can easily trust an e-commerce retail site displaying genuine images.
Baking after-effects of raw photography
A raw (unedited) picture can appear to be lumpish and is unlikely to publish straight away, as it might look flawed, inappropriate, and may convey a wrong idea to the customer about the product and they might refrain from buying, thus affecting the sales of a business. Henceforth, these images do need touch-ups, corrections, cropping, and background removal which are proffered by professional post-production image editing services. They bake your visual content to sheer perfectionism and enhance them to stand out from the crowd.
Boost your Sales
The buyer has the tendency to go for a product whose image appears to be genuine and of high-quality. Blurry and unclear images make the buyer go for alternatives. And the very essence of image editing is to increase the overall quality of your visual content because businesses do not want mediocre or unbaked images to represent their products or services. Photo retouching is a seller's tool that can significantly mold the complexion and quality of an image to make it look alluring for the customers. Thus, to drive sales, you need Image Editing the most.
Brand Building
Images are the key elements of your branding. The quality of images you display on your e-store is a direct reflection of your brand and your products. If you see the renowned brands around the world, you'll definitely find something different and attractive in them. The secret is they edit each and every single image before listing them on their website. Subtle changes can have a profound effect. Many renowned big brands have excelled in strengthening their brands by availing image outsourcing services. Thus, image editing elevates your brand's visual identity by enhancing the imagery.
Hassle-free multi-platform customizations
Different platforms like social media, mobile platforms, etc. have unique features. They also have different requirements of size, format, compression, file extension, etc. are mandatory to be altered. An image editing company is already an expert and experienced in all kinds of techniques to be deployed on imagery. Only with the help of professional photo editing, you can customize your images to have an equivalent impact on multiple platforms. Images create a unique relationship with people.
Your product image creates the customers' first impression of your brand and lasts after hitting the buy button. You cannot create a poignant impression of your product or service just using text. An image creates an everlasting impression on the mind of consumers. The consumer cannot touch or feel your product but can decide whether they want to buy it or not based on the quality of the image you serve them. If the product would be indistinguishable from its look, there's no guarantee the product will appeal to the customers. Thus it's pretty crucial to make the products stand different. And it is achieved by the process of image editing that allows to edit images in a way to look unique and intriguing.
The ultimate end-game for an e-commerce business is to increase conversions and boost revenue. And in order to fulfill the goals the whole game revolves around the quality of images or visual content is being served to the audience which would compel them to hit the 'buy' button. A well-presented image helps in brand building and gives an opportunity to rise above the competition by dominating the market. According to the experts "if you want to intrigue your customers and gain their trust, then listing high-quality images is crucial". Thus, image editing has become a mandatory part of today.
Let the experts handle
Professional image editing company's offer advanced image editing services. They are fully equipped with highly skilled editors and high-end technology to deliver exquisite visual content to fully optimize images for online use. We at EIE meet similar criteria and are one of the world's leading offshore outsourcing companies. With 15 years of e-commerce experience and collaborating with top brands have made us industry leaders. Other than conventional image editing, we provide various robust creative and hi-tech content solutions to elevate your brand's identity and boost your sales. Investing in a professional editing service company is the need of the hour, as it contributes to the growth and success of your e-commerce business. At EIE we elicit sheen and optimize the images to cater a great impact.
If you are looking for your perfect post-production partner, undoubtedly EIE is your one-stop solution dealing in all kinds of visual content enhancement processes.
Get in touch with us now!