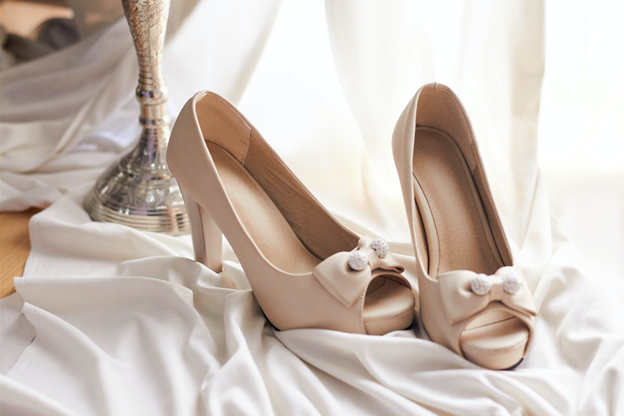 Shoes Photography is an art in fashion retouching, and creativity is what makes you a good photographer. That said, there is always room for growth and improvisation for when one needs to up their footwear photography game, especially in the context of ecommerce product images and other fashion accessories.
The quality of products and stills images on a website influences the customers to make a purchase and also ensures they have a positive shopping experience. Blurry and poorly-lit product images tend to create a negative impact on the minds of customers but if ecommerce product images have sharpness, are properly lit, there is a higher chance they will be purchased.
Shoes are some of the most frequently purchased products online, but they are also some of the most difficult to photograph for photo studios and footwear photographers, considering their shape and dimensions.
So before you start shooting your footwear there are some critical measures that you need to take and ensure a smooth-running shoot to obtain your desired results. I have a few tips that'll make your life a little bit easier and get you the best results possible.
So, let's get on to some flawless footwear photography!
TIP 1: DO NOT Lay the Footwear Flat
Laying your footwear flat will take away from their 3D visual capability and make them seem lifeless and inelegant. This will easily spoil the visual appeal of your fashion accessories. The ecommerce image won't provide any details to customers and will hamper their purchase intent.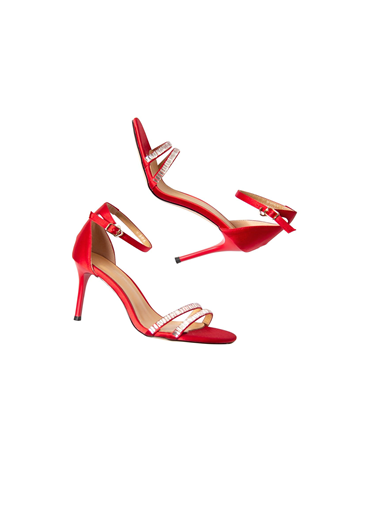 As you can see from the product image above, it provides very little information to the customers to help them make a purchase decision. Because of difficulty imagining how the fashion accessory would look when actually worn, the customer would turn away from the product.
TIP 2 : Create an Illusion of the Footwear
The footwear should be displayed in a manner that makes it appear as though it is worn by someone, or at least you can create an illusion of the same. To give the footwear an upright look and help the shoe stand alone; you can try tying dental floss to the shoe's strap to hold it up. Props like these can be easily removed in the high-end fashion accessories retouching process.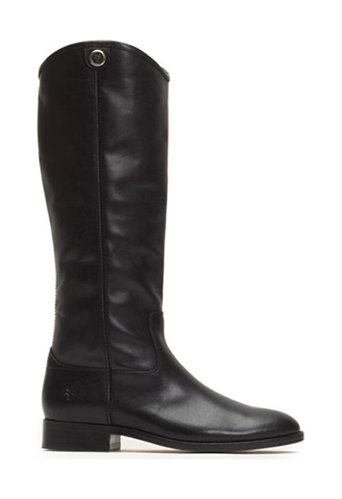 Another trick you can use is to stuff tissue paper or crumpled paper inside the shoe to give the footwear a straight look so that the shoe can stand alone. When shoes are displayed on platforms in the upright position it pulls in potential purchasers.
Tip 3: Don't clutter the frame.
Cluttered backgrounds from the industry point of view or in general are a complete turn offs for the viewers. In ecommerce product photography, a crowded background is a big no. The concept is equally applicable to online footwear photography as well, if you display too many elements in the frame the product or still (shoe) will lose the desired attention and buyers would be left distracted.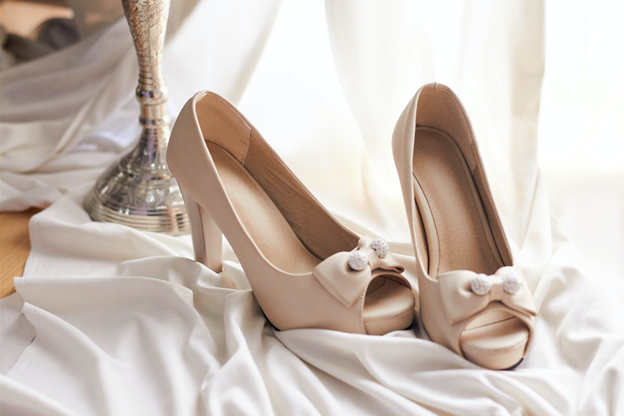 As you can see from the image above, too many elements in the frame steal the spotlight from the footwear. All photo studios have to do is keep the frame simple and clean to draw the attention of customers solely towards the footwear and/or fashion accessory. In general it is ideal and advantageous to photograph every ecommerce product alone.
Tip 4: Consistency is key
Inconsistent fashion accessory images don't fit in the marketplace guidelines and look truly horrific on ecommerce websites. While cropping the footwear image for the ecommerce product listing, the Photoshop editors and photo studios should keep in mind to not crop them too loose or too tightly as shown in the image below.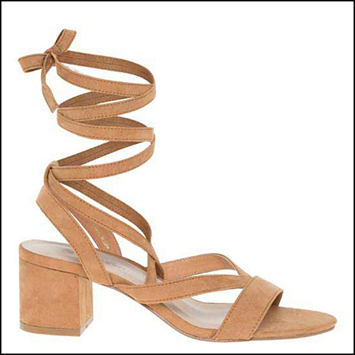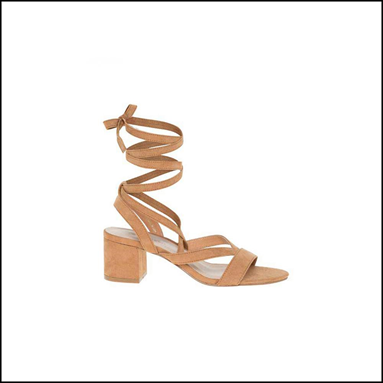 Inconsistent cropping of the ecommerce product image forces customers to see flaws, both in the product as well as the frame.

As you can see from the image above, this ecommerce website has listed the image of the shoes in the same size with accurate consistency. This creates alignment and ease for the human eye to view the ecommerce product images without being distracted, ultimately leading to a purchase.
What you can do in a photo studio, is create a shooting and cropping template that maintains strict guidelines that would keep your ecommerce fashion accessory product images consistent from frame to frame. If you are unable to do so the best alternative is to get your footwear images processed by a Photoshop Retouching company.
Now that I've given you my personal favourite tips on how to photograph footwear and ecommerce products, flawlessly. Here's a bonus tip, this is something I always do when I'm photographing footwear or any other fashion accessories for that matter:
Bonus Tip 5: Avail the professional image editing services
There are certain elements required to be added in a footwear and/or fashion accessory image to bring out the aesthetic value, such as adding shadows, enhancing color, image retouching and other elements. To achieve all of that a Photoshop image editing company is the perfect solution.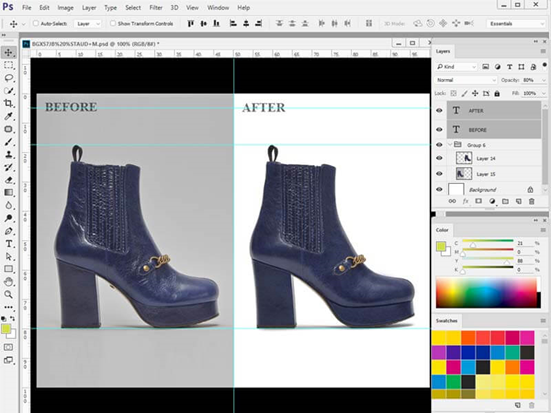 Photoshop image retouching experts can easily fix any mistake a photographer or photo studio makes as well as add subtle changes, to enhance the overall aesthetic appearance of the ecommerce product and stills image.
My absolute go-to for this are the exceptionally talented digital product illustrators and photo retouchers at EIE who can dramatically improve the quality appeal of ecommerce product photos, and provide customers with an unforgettable shopping experience.
Here's why you should choose EIE
If you are looking for a perfect outsourcing agency that can truly help you uplift the visual content of your website, you must collaborate with the most renowned outsourcing firm i.e. EIE, trusted by the top international brands for retouching their images.
With 20 years of e-commerce experience, we are pioneers of the industry. We always listen and customize product images based on what you – the clients – want. From simple footwear to complex-shaped ones: be it men's, women's, or kids, we have retouched millions of pairs.
No matter the need of your footwear brand, our high-end footwear retouching services cater to everything. So come be a part of our EIE family!